Increase Your Bottom Line!
Join TheSuperSaver Partner Program Concept!
The concept includes an easy three-step process: Profile/SignUp, Display Setup
and Web
Advertisement with information about your business and give your
potential customers
a discount when they make a purchase from your business.
You build loyalty and awareness of your products, providing your customers with
a fun
and easy way to save money on their everyday shopping. In addition,
TheSuperSaver
Partner Program will provide you with an additional source of
revenue, selling our
TheSuperSaver Cards to your customers and earn an
additional $5 to $15 profit from
every card you sell to your customers.
Your customers buy TheSuperSaver Card from you for $20 and you give them a
discount on future purchases. As Simple As That! You decide the discount
you
give to your customers for their loyalty and repeat business.
Plus... your
customers
will have access to many more discounts in your area that
would make
buying the card easy.
We will keep your advertisement online for one year and renew it every year after
that... FREE OF CHARGE... for as long as you give a discount to our
membership.
We will provide an online information website (soon to be a Shopping Mall) that
incentivizes your customers to spend more time and money on your business and
other businesses in your area.
TheSuperSaver Partner Program offers the following features and benefits:
Discounts to our members of: 5%, 10%, 20%, 30%. Businesses can give any
discount they like to their customers and TheSuperSaver members.
Our Partner Plan helps companies and organizations take advantage of this
simple
proposition. Partners are given an advertisement on our group of
websites.
The
customers are directed to see the products and services and make
a
purchase from
The Partner makes more sales and the members save money shopping from the
business
that are listed on our websites. The Partner Program helps companies
and organizations monetize their current database and build loyalty and retention
without conflicting with their core business.
The Partner Program serves all market sectors and industries from financial
institutions to telecommunications; any company or organization can incorporate
our program to increase revenue from their existing customers. We provide a
mechanism for non-profit organizations to introduce a new funding avenue
consistent with their brand and image and supplements existing fundraising
efforts
in many countries around the world.
Join TheSuperSaver Club TODAY!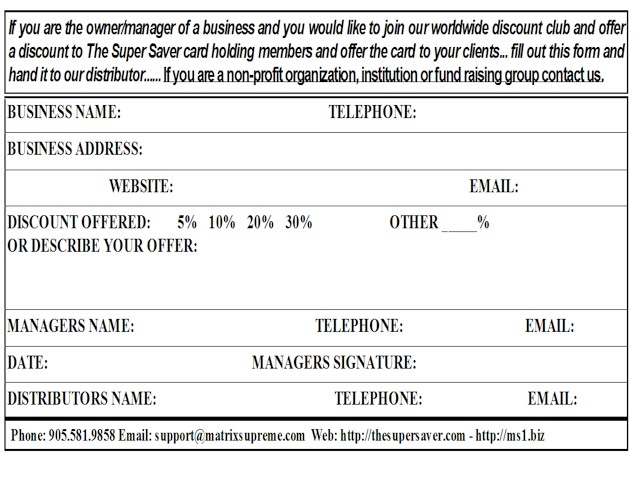 Phone: 905.581.9858 - 424.244.6404
Email: support@thesupersaver.com
Program one website: http://peoplesplan.ireadgroup.com
Program two website: http://
TheSuperSaver.com